I do wonder if we should start to consider something like a slide-up menu like chat does? Then we could put all the options (Quote, Edit, Copy, Share, Ask AI) in this menu?
However the main big downside to this is that you cannot use the native text selection and options

In chat we just offer to copy the whole message to clipboard, but we don't want to do that for post quotes.
Maybe on mobile only we have a single "Selection options…" popup button that would then slide up the menu from the bottom?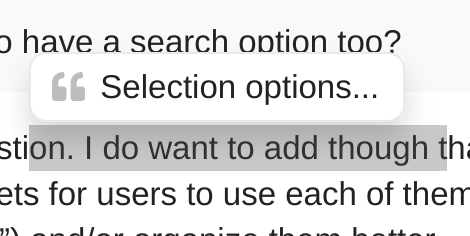 The slide out menu could have:
Edit
Quote
Copy Quote
Share
Ask AI
It's tricky because this is mostly a UI issue on mobile…